Potato Express is the fast and easiest way to cook oven-baked potatoes in just four minutes. Now you can enjoy perfect, tender potatoes that not to try plus your favorite potato dishes in no time at all with our Microwave Potato Cooker Bag.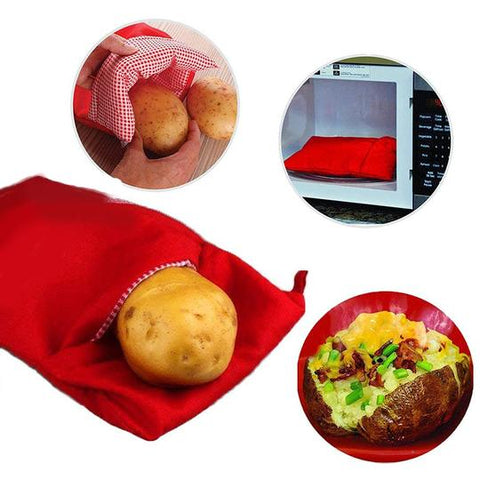 Main Features
Perfect Potatoes Just in 4 Minutes


Our Microwave Baking Bag perfect for potatoes and sweet potatoes, save your baking time, and cook perfect potatoes. With 4 minutes, you can have perfectly cooked potatoes. Create mouthwatering dishes.

P

ersonalize Your Flavor




Works with all types of potatoes, including sweet, red, yam, white, and more. Even the corn on the cob, day-old bread, tortillas, and more. You can easily personalize the toppings on each individual potato, a good solution for the pickiest of eaters.

High-efficient and Time-saving
With these microwave baked potato bags, you will get to enjoy perfectly cooked, moist, delicious potatoes while significantly cutting down on your prep time. Effectively shorten the time to do delicious food!

Useful Cooking Helper in Your Kitchen




Made of Polyester Fabric and Fiber, Reusable and Washable. It cooks up to 4 potatoes at a time, saves time in the kitchen, also is great for keeping your microwave clean with less condensation.
Instructions
Place 1-4 washed potatoes into potato bag then close the flap;

Place the 

potato bag

 

in the microwave and cook for 4 minutes.

Carefully remove the potato bag from the microwave and carefully remove the potato.

Add your favorite baked potato toppings, and enjoy your delicious potatoes.
Warnings
The contents and bags may be hot. Use caution when handling. Read the instruction guide carefully before use. Improper use may result in fire. Microwave use only.

DO NOT use in a conventional oven;

DO NOT heat on HIGH;
DO NOT heat in the microwave without food;
DO NOT expose to open flame;
DO NOT leave microwave unattended when in use;
DO NOT place potato express near a hot surface;
DO NOT cook oily or fried foods.